About College :: Introduction

Origin and History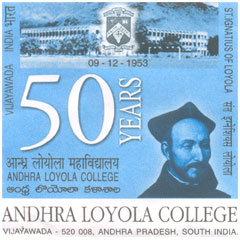 Andhra Loyola College (ALC) is a Christian Minority institution, managed and administered by the members of the Society of Jesus, called Jesuits. The College was founded in 1953 at the request of the Catholic Bishops of Andhra Pradesh. It started functioning as an affiliated college from July 1954 till December 1976 under the Andhra University and under Acharya Nagarjuna University thereafter. In recognition of its excellent contribution to Higher Education, the status of autonomy was granted to the College in July 1988. In the year 2002, the College received the prestigious accreditation from the National Assessment and Accreditation Council (NAAC), Bangalore at **** level and in 2004, the College received a shot in the arm with the conferment of the status of "A College With Potential For Excellence" by the UGC with a sanction of Rs one Crore to develop the infra-structure of the College. ALC is one of the six colleges in Andhra Pradesh and the only college in the Acharya Nagarjuna University to be given this privilege. From the year 2005-06, the College is implementing the Choice-based Credit System (CBCS) with a qualitative improvement in the course curriculum and with the shift system, the College is hoping to soar into newer horizons in the sphere of Higher Education.

Aims and Objectives
The primary aim of the College is to provide higher education in a Christian atmosphere to all deserving students, especially those belonging to the Catholic Christian Community. It also admits other students, irrespective of their caste, colour, or creed. The college strives to achieve the Jesuit educational goal of "forming men and women for others". Rev Fr. Peter Hans Kolvenbach SJ, Superior General of the Society of Jesus, explains the goal as follows: " We aim to form leaders in service, in imitation of Christ Jesus, men and women of competence, conscience and compassionate commitment". In other words, the aim of our College is to produce men and women, who are intellectually competent, open to growth, religious-minded, loving and committed to social justice and are in generous service to others without any prejudice based on race, religion, caste or language. This College has lived up to this Ignatian ideal all these 51 years. Unfailingly occupying a premier position at every stage of its growth. It has produced men and women, who have distinguished themselves, not only in their occupations but also by their strength of character and humanitarian works.

College Timing
Classes will start at 8.15 AM and will close at 1.30 PM with a 20 minute break between III and IV periods. This is applicable to Intermediate, Degree, and PG sections.